People become accustomed to hair removal equipment after a lengthy period of time. Then, today, B-blowing will respond to frequently asked concerns about hair removal machine!
Frequently asked questions about hair removal machine
Is it too hot to use a bikini hair removal?
Titan hair removal machine goods use IPL technology to remove hair. IPL light will directly affect the hair root, burn the hair follicle, weaken the hair, and cause it to fall out gradually. As a result, it will produce a warm sensation. Because the skin is thin yet the hair is dense and thick. The bikini area is especially sensitive. So, if the sensor emits a powerful beam of power, you may feel heated when you remove it.
Apply ice and massage dry before removing hair. This will assist to alleviate the stinging. You don't have to with Titan Cool Fresh! The machine uses cold removal technology. So you don't get hot every time you remove it!
Can I use the Titan hair removal device on my face?
Of course, it's OK. Titan hair removal device can be used to remove hair from any part of the body. You only need to shave before waxing for this facial hair removal, mustache removal, and forehead removal. However, removing brows near the eyes should be avoided. Because if we remove hair too near, this light may shine or dazzle us.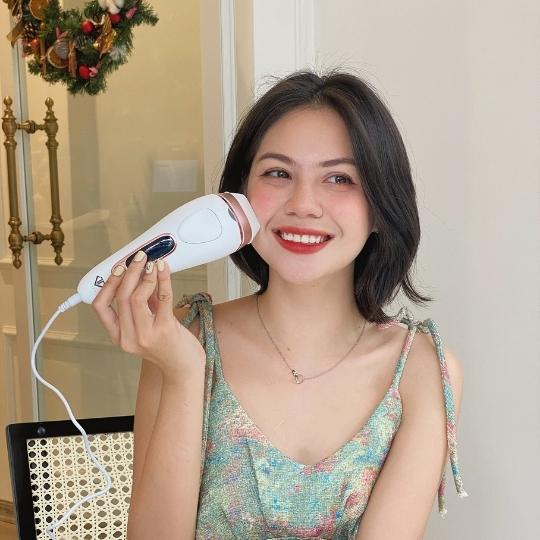 Does the hair removal therapy contain anything?
Is anyone fasting? Yes, the answer is yes.
You should avoid drinking water. Use lotion 4 hours after the treatment and again after 8 hours. If you feel your skin is overly dry after the treatment, you can soothe it. Apply a thin layer of aloe vera gel to the skin. However, certain women with sensitive skin may feel irritation in some circumstances. If you get a facial treatment, you should avoid wearing heavy makeup for at least 4 hours following the procedure. To avoid shortcomings in everyday duties, remove hair before going to bed at night.
Is it safe to use when pregnant?
Many hormonal changes occur in the body during pregnancy and nursing. Using hair removal machine does not produce the expected results. You should use the ablation machine 6 months after giving delivery.
Where can I purchase a Titian Pinky hair removal device?
B-blowing is now the sole distributor of Titan Cool Fresh at-home hair removal devices in the Vietnamese market. You can purchase through the website, Shopee, Tiki, Lazada, and the Fanpage B-blowing.
See more:
B-BLOWING – A DISTRIBUTOR FOR AT-HOME BEAUTY GADGETS
>> Website: https://b-blowing.com/
>> Email: order@b-blowing.com
>> Fanpage: https://www.facebook.com/bblowingglobal
>> Instagram: https://www.instagram.com/bblowingglobal/
>> Group: https://www.facebook.com/groups/317302563186916