TRIPOLLAR STOP Vx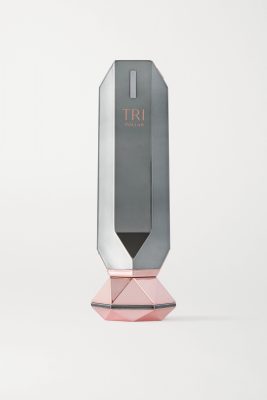 Product details
1. Uses:
Significantly reduces fine lines and wrinkles
Lifts saggy skin, improving muscle volume
Improve skin textures
Tones your jawline area
Immediate and long-lasting anti-aging results
Self-administer a professional treatment at home
Painless and easy-to-use
Noticeable clinical effect from the first treatment
2. What's included:
TriPollar STOP VX Model
TriPollar Gold Preparation Gel, 1.7 FL OZ (50 ML)
User Manual + Quick Start Guide
Power Supply
3. Additional Information:
Manufacturer: © Pollogen Ltd
Distributor: B-Blowing Co.Ltd
Weight: 85g
Dimensions: Height 134mm, Length 51mm, Width 32mm
The recorded temperature when using the device on the face: 0°C to 40°C
Humidity: 10RH to 90RH
USB charging pin power source: DC 8V 1.5A
TriPollar RF Frequency: 1.0MHz – 1.25MHz
Warranty: 2 years
Honored to be the distributor of Pollogen's outstanding anti-aging massage machine (in Israel), B-Blowing promises to bring users the most convenient and safe shopping experience.
---
Contact us for more information:
Facebook: B-Blowing