Not only customers using the new service need to pay attention to the advantages and disadvantages of each hair removal technology, but spa owners also need to understand to choose a machine using technology and hair removal machine. suitable.
In this article, B-Blowing will compare the pros and cons of the 3 most advanced hair removal technologies today!
What is permanent hair removal?
Above all, we need to understand what the concept of permanent hair removal is. Permanent hair removal is the use of methods ranging from manual to high-tech machines to remove the regrowth of hair follicles. Permanent hair removal will depend on the area you want to remove the hair, not all the hair follicles on your body.
Today's hair removal technologies with many improvements will help you remove "micro hair" more gently than traditional methods. Each method of hair removal has its own characteristics, however, temporary hair removal methods at home will either make the hair grow back faster, or make the hair grow back hard and the skin where the treatment is affected. Therefore, for effective hair removal, technology intervention is required.
The current popular hair removal technologies with hair removal machines such as: IPL light technology, OPT technology, Diode laser technology, etc. Each technology has different advantages and disadvantages, specifically as follows:
1. OPT hair removal Technology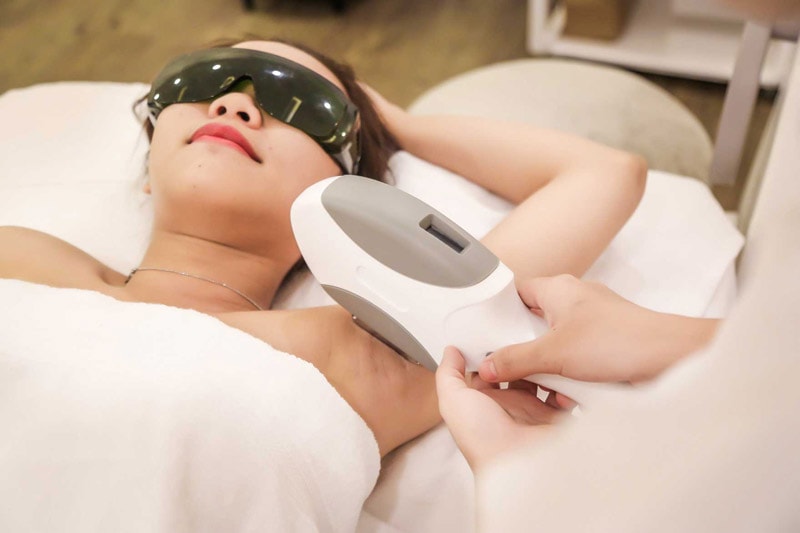 OPT can be said to be a technology that was born to optimize the energy of the SHR treatment mode, so that when pulsed with a fast frequency, OPT technology helps to maintain more stable energy. Therefore, OPT solves the disadvantages of previous old technologies.
Advantages:
Does not cause pain, stinging, discomfort.
Stable and uniform energy
Root hair follicles
Fast, shortened removal time: Clean hair after 4-6 sessions instead of 12 sessions like old technologies. Each session takes only 10-15 minutes.
Brighten the skin, support the treatment of folliculitis
Hair removal with OPT SHR technology is suitable for both men and women, suitable for almost any hair area.
Disadvantages:
Hair will regrow after 5-10 years depending on the location of each person, but at this time, the hair will be thinner and lighter in color.
2. Laser Diode hair removal Technology
Diode Laser is an RF (Radio Frequency) hair removal technology with wavelengths from 808nm – 810nm. So, this technology is capable of destroying and blocking nutrition from hair follicles to hairs. Due to inadequate nutrition, the hairs gradually weaken and fall out naturally.
Advantages:
Highly effective permanent hair removal, from 70 to 98% depending on the individual's location
Short treatment time: from 5 to 10 times, each time is done for 10-30 minutes.
Limiting skin damage: New generation diode laser hair removal machines are often integrated with cold heat leads to help reduce burning, redness and blistering of the skin.
Suitable for many skin types such as yellow skin, white skin, black skin. Can be adjusted to suit different areas of the body.
Improve skin, reduce folliculitis: laser beams with a temperature of 70 – 80 degrees Celsius will kill bacteria that cause fungal and folliculitis. It also stimulates collagen production, tightens pores, and rejuvenates the skin.
Disadvantages
May cause skin blistering if the technician is not qualified
Laser hair removal will be uneven on an area of ​​skin
The price is quite high
3. IPL Technology
IPL (Intense Pulsed Light) hair removal technology works based on the intense light emitted from the Flashlamp bulb. The essence of IPL is a broad spectrum beam from 420nm – 1200nm. The wavelength of IPL also commonly used for hair removal is in the range of 610 – 950nm. Therefore, the IPL can kill hairs and destroy and prevent hair follicles from growing.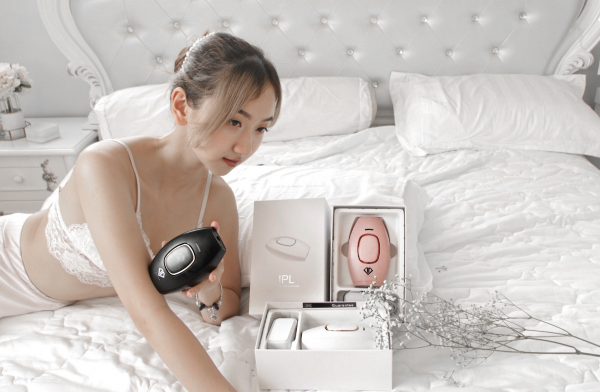 Advantages:
40% hair reduction after 3 months of treatment, up to 75% hair removal / after the end of 1 course.
The rest of the hair as it grows will be softer and thinner.
Low cost, suitable for many people's financial conditions.
Hair removal with IPL technology helps to improve and rejuvenate the skin.
Low cost.
Disadvantages:
Không hiệu quả trên lông tơ, không hiệu quả trên vùng da sẫm màu.
Thời gian điều trị tương đối lâu, mỗi liệu trình gồm 15-20 lần, mỗi lần thực hiện trong khoảng thời gian từ 45-90 phút.
Compare
Kết lại, tùy vào điều kiện kinh tế và nhu cầu mà bạn có thể lựa chọn cho spa của mình một loại máy triệt lông phù hợp. Vì máy móc chỉ hỗ trợ và con người luôn là nòng cốt chính. Tuy nhiên, việc sắm cho mình một chiếc máy triệt lông cá nhân có thể triệt lông bất cứ lúc nào kể cả tại nhà thì còn gì tiện lợi hơn.
B-Blowing currently offers 2 lines of high-end hair removal machines Titan Lite and Titan Premium. Contact us now for a free consultation and fastest support!
B-Blowing is the exclusive distributor of IPL light hair removal machines from Titan. Contact us now to order Titan Lite and Titan Premium at the best price.
See more:
B-BLOWING – A DISTRIBUTOR FOR AT-HOME BEAUTY GADGETS
>> ???????: https://b-blowing.com/
>> ?????: order@b-blowing.com
>> ???????: https://www.facebook.com/bblowingglobal
>> ?????????: https://www.instagram.com/bblowingglobal/
>> Group: https://www.facebook.com/groups/317302563186916
>> ???????: +44 7411288993